Feel The Sizzle... This Is Hot!
Paris Hilton famously coined the phrase "That's hot" back in the early 2000's.  At the risk of sounding cheeky (so I apologize in advance), all I can say about central Florida's real estate market is "That's hot". 😎
Historically speaking, the real estate market slows down in August and even more in September.  2020 certainly has sent us all many curveballs, but at least this is a "gift" for many.  Real estate has been one of the thriving industries in Florida even into September and signs all point to a great October as well.
What is causing the sizzle in central Florida? Many factors:
Amazing low interest rates for most homebuyers
Low inventory…. Lowest number of homes to sell
More buyers… Florida is the place that many folks want to move to now….. more people are moving in and not many moving out.
Many people can work-from-home that couldn't have before, and many people who loved their small apartments in a big city don't like them now that they've been stuck inside for so long.
Look over the graphic provided by the Orlando Regional Real Estate Association. You can see the numbers ….. are you asking….. what does all this mean? Remember, your specific area may differ on some of the stats but in general, this is saying Interest Rates are incredibly low and the homes are only lasting an average of 48 days on the market.  Great for the Sellers, but what about the Buyers??
Whether you are looking to buy, sell or invest, give us a call at 407-721-0611 and let's have a virtual coffee and discuss your individual needs and goals. Linda Schulte and Schulte Realty are here to help make sense of the competitive real estate market for you.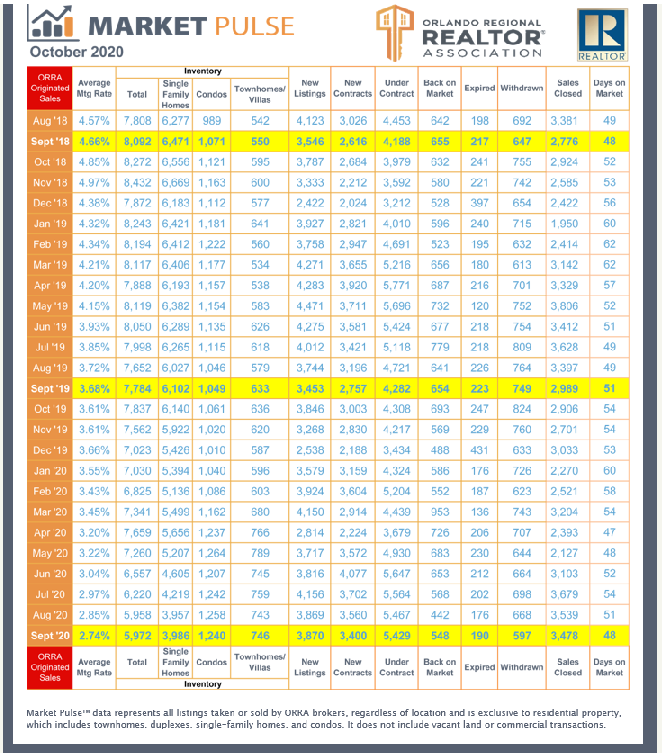 Share This Story, Choose Your Platform!