Happening Now: Tax Free Hurricane Items!
Hurricane Season starts June 1st! Are you ready?!?
We have all had so much to think about – it's hard to believe we now have to think about HURRICANE season!  But it is that time of year, and the good news is that the TAX-FREE time is happening NOW!   This runs now until June 4, 2020.  Below is a link to a complete listing as well as a screenshot where you can see some of the eligible items.  If you can find these items now, go ahead and get a few to keep at home!  If you are new to Florida – you DEFINITELY want to be aware that these items will sell out fast if a storm starts to approach us in the next couple of months.
Even if you think you're ready, I bet there are a few things in the list below that you might not have thought of yet!  Courtesy of ACF Home Inspections, here are a few things you can do to get you and your home ready for a big storm:
Outside Your Home
Cut, trim and remove any and all dead tree limbs.
Be sure that your house number is clearly visible.
Be sure to clear your yard of any items that can blow away during a storm. Items such as patio furniture, gardening tools, garbage cans, grill, wood pieces, bikes, planted pots, toys, outside umbrellas, etc.
Have your window covers ready to install once you know the storm is on its way.
Close and fasten gates so they don't swing during the storm.
Inside Your Home
Adjust your thermostat in your refrigerator and freezer to the coolest possible setting. This will keep your food fresher longer. Be sure to have a cooler on hand and make sufficient ice in case of power loss.
Locate a place in your home for a "safe" room.  A safe room is an interior room that has no windows and is not connected to an exterior wall. Place a First Aid kit in the room and any medical supplies that you may need.
Be sure you know where your main water and electrical shut off are located and ensure they are accessible.
Have available a weather radio with batteries or portable television for weather alerts.
Have a toolset ready and any immediate supplies such as duct tape, plastic sheathing, rope, towels, etc.
Secure all your important documents in a waterproof safe container and take photographs of your personal belongings, furniture, etc.
Have a gallon of water per person, per day, for up to 7 days and enough canned food, snacks, paper plates, and plastic utensils. Don't forget a can opener that is not electric.
Have a portable generator on hand if at all possible, just in case the power goes off.
Keep a fresh supply of batteries, portable lanterns, portable rechargeable power supply for cell phones, and flashlights on hand.
Have cash on hand and a full tank of gas in your car(s).
Print this list and use it as a checklist in the upcoming weeks and months!  A big THANK YOU to ACF Inspections for providing this helpful information!  Learn More about them here:  www.acfhomeinspections.com
For a list of 2020 potential Tax-Free items – click here https://revenuelaw.floridarevenue.com/LawLibraryDocuments/2020/05/TIP-123007_TIP_20A01-02_FINAL_RLL.pdf
And as always, if you decide that you are ready to start talking about buying or selling a home, I'm happy to chat with you – in person or online!  Whichever you prefer!  Contact me at 407-721-0611 or at [email protected] today!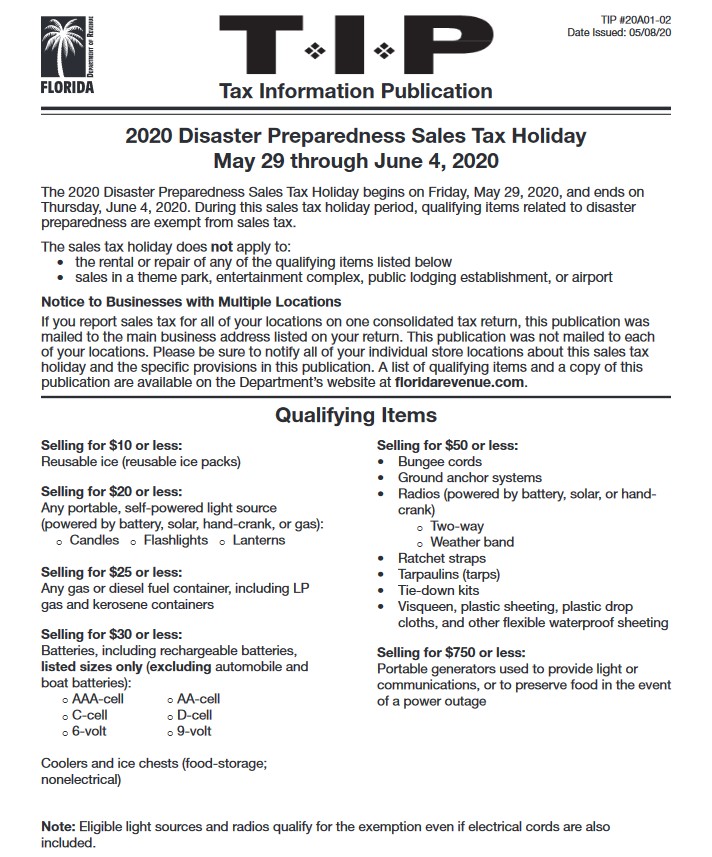 Share This Story, Choose Your Platform!